Discord's Developer Mode is a feature that helps developers write bots using the Discord API. It's used by developers to get information such as user and server IDs, among other things. Enabling Developer Mode in Discord won't make you a developer alone, but it's definitely a useful tool for those writing bots and other applications.
Update: Some time between this article being published and now, Discord moved the Developer Mode option in one of its updates. This article has been updated to reflect this change.
What does Developer Mode do?
Developer mode simply allows your Discord client to view information such as user ID, server ID, channel ID, and message ID. These ID numbers can be used in conjunction with the Discord API to create Discord bots or other applications that integrate with Discord. Unless you have a need for this information, you're probably better off keeping developer mode disabled.
How to Enable Discord's Developer Mode (Updated 2021)
Desktop
In Discord, click the Gear icon next to your name in the lower left corner.

Click Advanced under App Settings on the left hand side.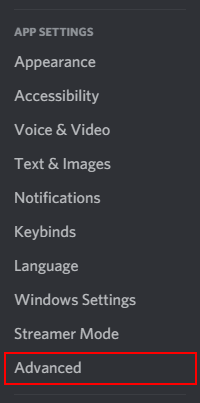 Developer Mode is the first option in the Advanced page. Click the Toggle icon next to it to enable developer mode.

Mobile
In the Discord App, tap the Hamburger menu icon (

) at the upper left and then tap your Profile picture at the bottom right.
Scroll down to the App Settings section and tap Behavior.
Tap the Toggle icon to the right of Developer Mode to enable it.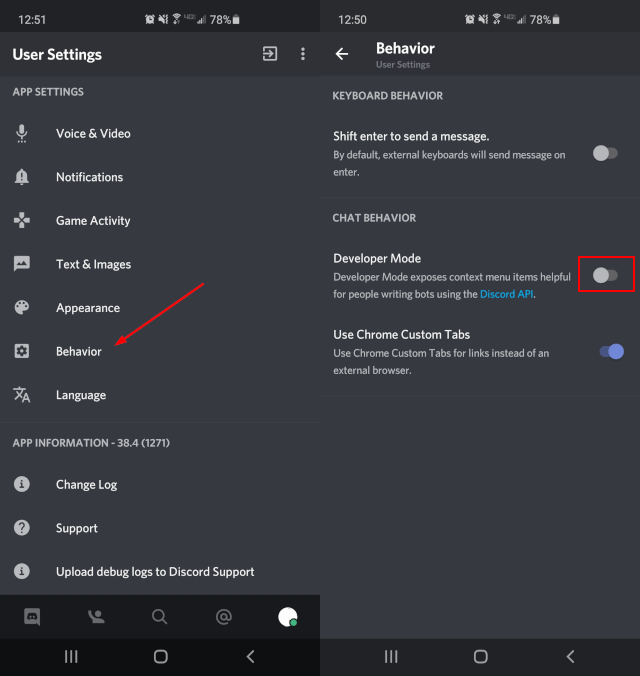 If you're using an iOS device, and the developer mode is missing here, check under Appearance instead.
How to get User, Server, and Message IDs
With developer mode enabled, you can now use it to obtain information needed for development. If you're developing a Discord bot, you might need to find things like User and Server ID – check out our tutorial here to find out how.