Google Maps is an informational hub for location-based data that many of us rely on. Whether you're planning a road trip, or simply looking for directions, Google Maps is oftentimes the go-to tool.
With the amount of features that Maps has, it's really no wonder why. From navigating to your favorite places to creating custom maps with My Maps, it brings a lot to the table. One lesser-known feature of Google Maps, but a useful one, is the ability to view county lines.
How to View a Single County on Google Maps
To view county lines of a single county in Google Maps, simply open Google Maps and search for the county's name followed by "county".
The example below shows the results for "Palm Beach County" in Florida. The red line depicts the border of the county.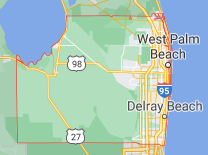 How to View All Counties on Google Maps
To view all counties of a state in Google Maps, start by searching for the state followed by "counties".
Maps will show a list of counties on the left with markers for each one on the map. Simply click the county in either the list or the map to view its line.
Use the back button in your browser to view the list of counties again if you wish to view another one.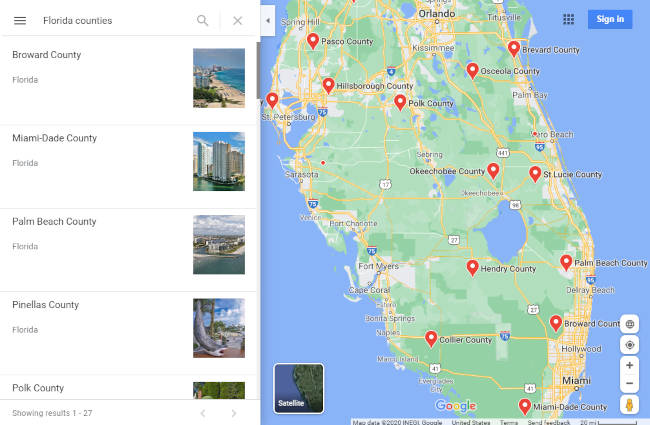 To view multiple county lines all at once, you might try this custom map by Randy Majors. This maps shows all of the county lines that make up each state. You can click a county on the map to find out its name.
Sharing / Embedding a Map with Counties Shown
Another cool feature of Google Maps is that it allows you to share a link to, or embed on a website, a map as you see it on your screen. You can use this to share or embed a map of counties directly from Google Maps.
Open Google Maps and search for "<State> counties", or a single county, like shown above.
Click the Hamburger menu icon () in the upper left corner and select Share or embed a map.

To share a link to the map, copy the link under the Send a link tab.
To embed a map, copy the HTML under the Embed a map tab. You can even customize the size of your map by using the Size dropdown to the left of the HTML code. Use the preview window to see how the map will appear to visitors on your website.