Steam is one of the most popular digital distribution platforms that's become almost synonymous with PC gaming. With its seasonal sales, social features, and a community driven workshop and marketplace, Steam quickly became a home to many in the gaming community.
The Steam Workshop is one of Steam's more unique features. Workshop allows community members to create custom maps, mods, and other add-ons for games available on Steam. Players can then subscribe to these community created additions and use them in their own games.
As you subscribe to more and more workshop items though, managing your subscriptions can get a bit messy over time. Throw game subscriptions in the mix and you may not even know where to start!
Thankfully, viewing and managing your subscriptions in Steam is easy – here's how.
How to View Workshop Subscriptions in Steam
Getting to and browsing the Steam workshop is easy. Even subscribing to workshop items can be done with the click of a button. Finding a list of all workshop items you subscribe to though is a little more hidden away – here's how:
Open the Steam client on your PC and sign into your account.
Hover your mouse over the Community tab at the top of Steam and select Workshop.

On the Workshop screen, scroll down to the Latest Workshop News section and click Your Files in the column at the far right.

Now in Workshop Items, click Subscribed Items in the menu at the right.

Here, you can view and manage all of your workshop subscriptions. Use the buttons to the right of any workshop item to rate, favorite, or unsubscribe from it. You can also filter by a specific game using the Filter by game dropdown at the top.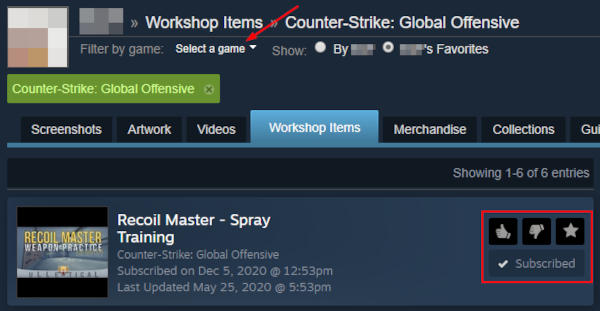 If you want to unsubscribe from all workshop content, click Unsubscribe From All under Your Workshop on the right.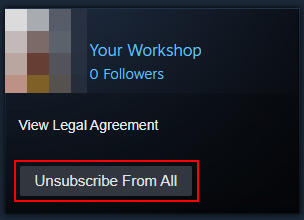 How to View Game Subscriptions in Steam
Some MMOs (Massively multiplayer online games) available on Steam, like the Elder Scrolls Online, offer recurring monthly subscription packages through Steam. Once signing up for a package like this, you'll be billed on a recurring cycle.
Here's how you can see what games you're subscribed to in Steam:
Desktop
Open the Steam client on your PC and sign into your account.
Click your Account Name in the upper right corner of Steam and select Account details.

Click My subscriptions under Store and Purchase History. If you don't see My Subscriptions, it means that you do not have any recurring subscriptions.
Here, you can view and manage any of your recurring subscriptions on Steam.
Mobile
Open the Steam mobile app and sign into your account.
Tap the Hamburger menu icon in the upper left corner and select Support.

In Steam Support, scroll down and tap My Account.

Tap Data Related to Your Steam Account and then select Subscriptions.

Here, you can view and manage any of your recurring subscriptions on Steam.