Push to talk and voice activation are two different methods for using VOIP in Discord. Push to talk requires you to press a button to begin speaking and voice activation sends sound when it's detected. Those with a sensitive microphone or a noisy background will benefit most from using push to talk.
By default, Discord plays a small beep sound when you press the push to talk button and again after you release it. These beeps are meant to notify you when VOIP is active and others can hear you. Some people find this notification helpful while others might find it annoying. Luckily Discord allows you to disable or enable these push to talk sounds – here's how.
How to Disable / Enable the Push to Talk Activation Noise
In Discord, click the gear icon next to your name in the lower left corner.

Under App Settings on the left, click Notifications.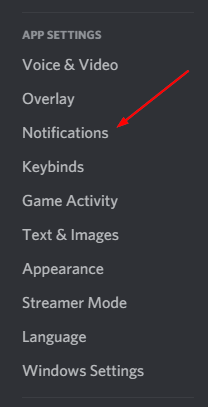 On the right, scroll down to the Sounds section and enable / disable PTT Activate & PTT Deactivate.

You can enable or disable only one of these settings if you choose. PTT Activate is the sound that plays when you press the push to talk button and PTT Deactivate is the second sound that plays when it's released.