Emojis have their place in life but sometimes you just want to send plain old text / emoticons. By default, Discord converts simple emoticons like :) or :( to their emoji equivalent. Normally, this is not a problem but it can get in the way in some cases. You might also just be someone that doesn't like emojis ¯\_(ツ)_/¯. Luckily, Discord allows you to disable automatic emojis – here's how!
How to Disable Automatic Emojis for One-off Messages
Before disabling emojis entirely, it's worth mentioning that you can use backslash \ for one-off messages. This key is meant for escaping text formatting characters like * but works for emoticons too!
Simply type \:) instead of :) and the emoticon will appear instead of its respective emoji.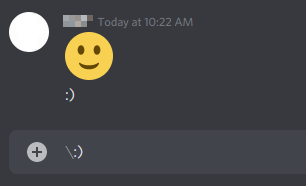 How to Disable Automatic Emojis for all Messages in Discord
This setting appears to be missing from the Discord mobile app but changing it in the Desktop version of Discord will apply to the mobile version as well. If you only have Discord on your phone but have access to a computer, you can easily sign into Discord's web client using QR code login and disable the setting there.
In Discord, click the gear icon next to your name in the lower left corner.

Under App Settings on the left, click Text & Images.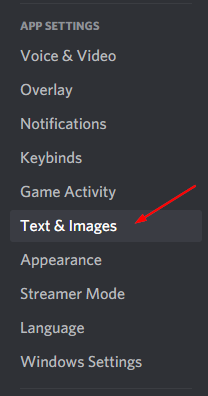 On the right, under Text & Images, Click the switch next to Automatically convert emoticons in your messages to emoji to disable it.