Discord's QR code login is a quick and convenient way to sign into Discord without typing in your account credentials. Using the Discord mobile app, you simply scan the QR code shown on the login screen instead of typing in your credentials.
You no longer need to remember your username and password and can sign into a new device from anywhere! Here's how to use QR code login!
How to Sign into Discord by Scanning a QR Code
In order to start using QR code login, you'll need to download and sign into the Discord mobile app. You can find and install Discord for Android at the Google Play store or Discord for iOS in the Apple store.
Once the app is installed, and you've signed in, open the Discord desktop or web client on your computer. At the login screen, you will see a QR code next to the username and password fields.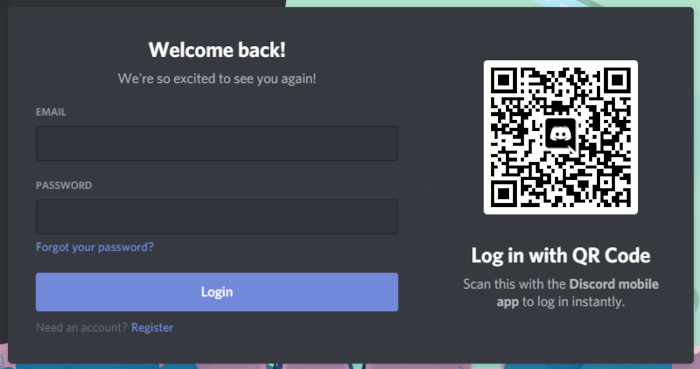 In the Discord App, tap the hamburger menu icon () at the upper left and then tap your profile picture at the bottom right.

Under User Settings, tap Scan QR Code. If you haven't used your camera in the Discord app before, it will prompt you for access. You'll need to approve it for QR code scanning to work.

Point your camera at the QR code shown on screen to scan it (it should only take a second). Tap Yes, log me in after scanning the QR code.

After approving the sign in, Discord will automatically log you in and you're ready to start using it on the new device.
QR codes only last for 2 minutes once you load the login screen. After 2 minutes, refresh the page to receive a new QR code if you need to.
Never approve a sign in for a QR code that you didn't generate! If someone sends you a QR code and Discord prompts you to approve it, hit Cancel below the Yes, log me in button.