Hardware acceleration is something some software uses to more efficiently handle certain tasks. An example of this might be on-screen transitions that the GPU can perform much easier than the CPU. This clever system does have a drawback though in that it can slightly introduce additional strain on the GPU. If you're noticing FPS (Frames per second) drops in games while using Discord, hardware acceleration could be part of the problem. Here's how to disable hardware acceleration in Discord.
How to Turn Off Hardware Acceleration in Discord
You'll have to have the Discord desktop client as this option is not available in the web version of Discord.
Step 1: In Discord, click the gear icon next to your name at the lower left corner

Step 2: Click Appearance under App Settings on the left hand side (you may have to scroll down)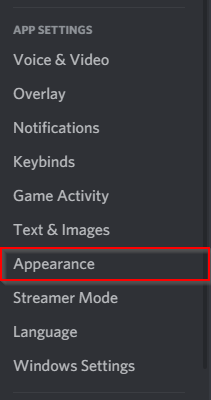 Step 3: In the Appearance settings, scroll all the way to the bottom and click the switch on Hardware Acceleration to disable it

Conclusion
As you can see, it's super easy to disable hardware acceleration in Discord. You should see a slight improvement in your FPS when Discord is also running. If you later find that there isn't much of an improvement, you can enable hardware acceleration again by simply flipping the same switch.