All of my buttons in Outlook are missing and I have no idea how to get them back! What do I do?! Sound familiar? Don't panic – It's actually a pretty simple fix (and will probably have you sighing and thinking "really?…"). Try the below steps to get ribbon bar back in Outlook.
How to restore the Ribbon bar in Outlook
File, Home, and other tabs are showing
If all of your tabs are still present (File, Home, etc.) follow the following steps to restore the ribbon bar.
Step 1: Click the Home tab at the top of Outlook to see the ribbon.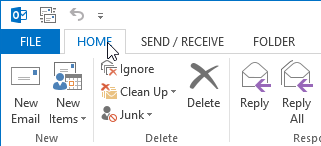 Step 2: Locate the Thumb tack icon on the far bottom right hand corner of the ribbon and click it.

The Outlook ribbon should now always be present.
Even the tabs are missing
If you're missing the File, Home, and other tabs you might need to disable the Ribbon Auto-hide feature instead.
To do this, look for an icon depicting a box with an up arrow inside of it at the upper right hand corner of Outlook (next to the X to close it).

Click it and then select Show Tabs and Commands.