Sharing your calendar is a core feature of most calendar systems, and Google Calendar is no exception. Sharing a calendar allows others to view, or even edit, events on your calendar. It's an incredibly useful feature, especially for those using Google Workspace / G-Suite.
Over time, and as people come in and out of our busy lives, it's important to go back and review who still has access to your calendar and remove those that no longer need it. If it's something you don't do often though, you may have even forgotten how. No worries because it's easy to stop sharing your Google Calendar and we'll show you how!
How to Stop Sharing / Unshare Your Calendar in Google Calendar
Open calendar.google.com in your browser and look for the calendar you wish to unshare under My calendars on the left hand side.
Hover over the calendar so the 3 dots appear at the right, click them, and then select Settings and sharing.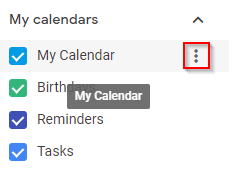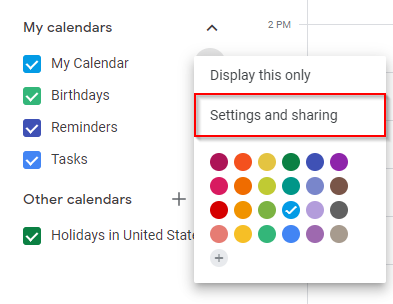 Click Share with specific people on the left hand side under Settings for my calendars. You can also simply scroll down the page to the Share with specific people section.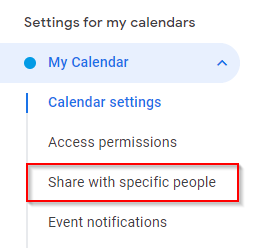 Locate the person you wish to stop sharing your calendar with and click the X that appears to the right of it.

The settings should save automatically and your calendar will no longer be visible to anyone you removed.
How to Change Calendar Sharing Settings
It's also possible to change your sharing settings so that the person only sees limited information. This is a good alternative if you don't want to unshare your entire calendar with someone.
Go to the Share with specific people section in calendar settings, found in the last step above. Click the dropdown menu at the right of the person's name and email address, and select See only free/busy (hide details).