Deleting events in Google Calendar is pretty straight forward, but what if you need to delete multiple events at once? Well… that depends on the type of events you need to delete.
Recurring events are a breeze to get rid of, but deleting a bunch of one-time / non-recurring events can be a bit of a challenge. In this article we'll take a look at how to delete multiple recurring and non-recurring events in Google Calendar.
How to Delete Recurring Events all at Once
In Google Calendar, click the recurring event and then click the trash can icon that appears next it.

In the window that appears, select either All events or This and following events.

Note: The All events option deletes every event – even those in the past. The This and following events deletes the event you selected and all future events, but keeps those entries that have already happened on the calendar.

How to Delete Multiple Non-recurring Events in Google Calendar
At the time of writing, batch deleting multiple calendar events with a single action is not possible in Google Calendar. Here are some of the best options available for deleting multiple events as quickly as possible.
Option 1: Delete Events in Google Calendar's Schedule View
In Google Calendar, change the view to Schedule at the upper right hand corner.

Right click each event you wish to delete, and click Delete. Repeat this for every event you want to delete.
Update: You can also delete events by simply clicking them and hitting the Delete key on your keyboard! After deleting the first one, hitting the key again will delete the following event below it. This is a much faster than right clicking each event first. Thanks to the commenter below for suggesting this!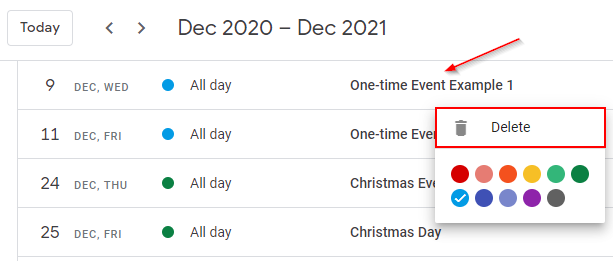 Option 2: Batch Deleting Multiple Calendar Events at Once with GCalToolkit
If you have hundreds or more one-time events in your calendar, you may want to look at a third-party tool like GCalToolkit. Their documentation is full of useful information and guides on how to manage your Google Calendar with it. You will need to download a third-party tool and therefore we only recommend this solution to advanced users.