Microsoft Paint is one of Window's oldest applications that's still alive and well today. First introduced in 1985, Microsoft Paint still has a special place in our hearts, perhaps for its simplicity or our nostalgia for it.
Things were looking bleak for Paint's future in 2017 though when Microsoft announced that Paint could be nixed in the upcoming Creators Update. That was until Microsoft received an overwhelming response from fans in support of keeping the app around.
Still available in standard installations of Windows 10, Paint is a fan favorite for basic photo editing. Paint, like other photo editors, can also add text to images. Font selection is limited to the fonts Windows comes with by default, but you can add new ones as your please.
In this article, we'll show you how to add a new font to Microsoft Paint.
How to Add a Font to Microsoft Paint in Windows 10
Windows makes it incredibly easy to add a font to applications like Microsoft Paint. All you need is a .ttf file containing the font you wish to install. Installing a font on your system will also allow you to use it in other applications like Microsoft Word, Paint 3D, Excel, etc.
You can download fonts from places like Google Fonts or Fontspace.com. You'll need to have administrative rights to your computer to install new fonts.
Download any font you want to add to Microsoft Paint, or locate the .zip file you already have. We'll be using Raleway for this tutorial.

Right click the .zip file and select Extract all...

Click the Extract button in the lower right corner of the window that appears. Windows will automatically open the extracted folder when finished.

In the new folder window that appears, right click the .ttf file you wish to install and select Install for all Users.

After installation is complete, open Microsoft Paint and look for your new font in the dropdown. You can now apply this font the same way you would any other in Paint. You may need to restart Paint if it was already running when you installed the new font.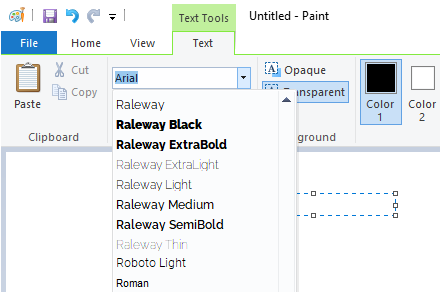 If you're having trouble finding your new font, try typing its name into the dropdown. This will filter all fonts by name as you type.