Google Maps uses labels to show points of interest such as restaurants, shopping centers, and parks. They also serve as informational hubs for hours, directions, and reviews. You can even create your own labels for work, home, or your favorite places.
Usually these labels are pretty helpful, but what if you want to view only the map without them? Luckily, it is possible to remove labels from Google Maps but you might have to use Google's My Maps depending on what you're looking for.
Update: Google Maps has moved where Layers used to be, and with this, have allowed you to remove labels in both Maps and Satellite view. Previously, you could only remove labels in Satellite view but could create something similar with Google My Maps. The article has been updated to reflect these changes.
How to Remove Labels in Google Maps
With the new Layers location update, Google Maps now allows you to remove labels in both map view and satellite view! Unfortunately though, it appears that this is only available on the Desktop version of Google Maps.
Open maps.google.com in any web browser.
Hover your mouse over the Layers box in the lower left corner and then click More in the menu that appears.

Now in the expanded Layers menu, click / uncheck the Labels checkbox in the bottom right corner. Even though it appears greyed out, you should still be able to uncheck it and remove labels. If you're having issues with it, try changing the Map type to Satellite first.

Alternative Method: Hide Labels in Google Maps with Google My Maps
Google My Maps is a tool that Google provides to allow you to create your own custom maps using Google Maps. Conveniently, My Maps has some base layers without labels. Here's how to create such a map:
Note: You'll have to sign into your Google account to use My Maps, so make sure you're already signed in or do so when prompted.
Open mymaps.google.com in your browser and click the Create a new map button at the upper left.

At the bottom of the Untitled map box, click the arrow next to Base map and select Light Political, Mono City, or Simple Atlas.

You can save your new map by clicking Untitled map and then the Save button.
You can even share, export, download, print, or embed this new map by clicking the 3 dots next to the map's name and selecting the respective option.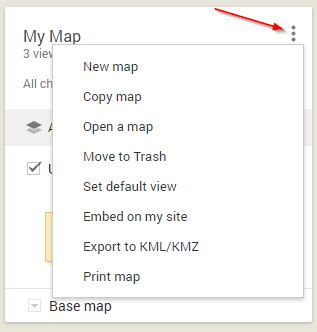 How to Delete Custom Labels in Google Maps
If you're only here to find out how to remove custom labels that you've created – then don't worry we've got you there too.
Desktop
Open maps.google.com in your browser and click the Menu icon () at the upper left.
Click Your places near the bottom of the menu.

Under Labeled click the X next to the label you wish to delete. Check the Saved tab for other labels you might want to delete.

Mobile
Open the Google Maps app and tap the Saved button at the bottom.

Tap Labeled (or wherever you labels are saved) under Your lists.
Tap the 3 dots next to the label you wish to remove and tap Remove (label name).