Following Twitch channels is a great way to know when your favorite content creators are currently live. Channels you follow appear on your Twitch dashboard and can even send you notifications when a channel is live. As you follow more and more channels though, you might find that some channels no longer interest you. If it's time to cleanup the channels you follow on Twitch then continue reading to find out how to unfollow them.
How to Unfollow Twitch Channels
You might be thinking that you need to go to each channel's Twitch page and click the unfollow button. Well luckily, there's a far easier way than that! The best way to unfollow multiple twitch channels is via the Following page.
Step 1: Open twitch.tv in your browser and sign in if you're not already
Step 2: Click the Following link at the upper left next to the Twitch logo

Step 3: Click the Channels tab under Following

Step 4: Hover your mouse over a channel you follow and click the green Heart icon that appears to unfollow it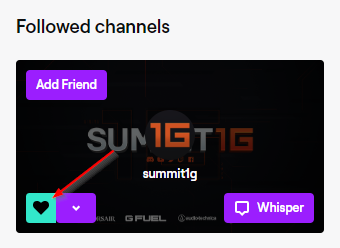 Step 5: Repeat step 4 for every channel you wish to unfollow
To verify you're no longer following these channels, refresh the Following page. If they don't appear on this page then you are no longer following them.