Facebook Messenger makes it easy to create group conversations and add friends to them… sometimes a little too easy. Finding yourself in a group chat you're not interested in can be annoying, especially when you're constantly receiving new message notifications.
Thankfully, Facebook Messenger allows you to leave a group conversation at any time. In this article, we'll show you how in the Android / iOS mobile app and on your desktop computer.
How to Remove Yourself from a Group Conversation in Facebook Messenger
You can remove yourself from a group conversation in Facebook Messenger by clicking / tapping the Leave option in any conversation's options menu.
Here's how, step-by-step, in the Facebook Messenger mobile app and on your PC:
Android / iOS Mobile App
Open the Facebook Messenger app.
Long-press (Tap and hold) the conversation you wish to mute until the long-press menu appears.
Tap Leave group.

Tap Leave in the confirmation box that appears.

Desktop / PC
Open Facebook.com in your web browser and sign into your account.
Click the Messenger icon in the upper right corner and then click See All in Messenger at the bottom. You can also simply open www.facebook.com/messages/t/ in your web browser.

Under Chats, click the group conversation you wish to leave.
With the conversation open, click the Information icon in the upper right corner so that the panel on the right is visible.

Click Privacy & support to reveal the options underneath it, and click Leave group.

In the confirmation window that appears, click Leave group again.

Will Others Know if you Leave a Group Conversation?
Yes, other people in the group chat will see a message notifying them that you've left the conversation. They won't receive any kind of push notification, but it will appear in the chat like shown in the photo below.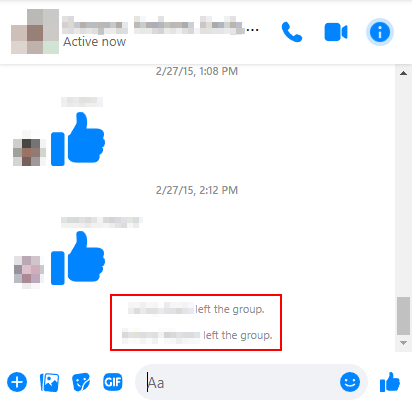 Can you Leave a Group Chat Without Others Knowing?
Unfortunately, there's no way to leave a group chat in Facebook Messenger without notifying others that you've left. You can, however, mute the conversation or remove it from your inbox entirely by ignoring it.
By muting or ignoring a conversation, you'll no longer receive notifications for it and others in the chat will be none the wiser.