Discord has a lot of neat features that make it a popular choice for gamers. Whether that's streaming game play to friends, or just having a place to chat, Discord has something for everyone to like. One small feature, but a notable one, is the Discord status that shows whether someone is online or not.
Usually, the online status is exactly what you want when Discord is open. Sometimes though, you need some peace and quite while still being in touch with what's happening on the server. That's where the invisible status comes in, which allows you to appear offline while still having Discord open.
Discord Status Types and What They do
There are four status types in Discord: Online, Idle, Do Not Disturb, and Invisible.
Online is the default status that shows whenever Discord is open. This status appears as a green dot next to your name and lets everyone know you're available for chat.
Idle is the status that shows as a yellow dot next to your name when you've been away from your keyboard for a set period of time. This status helps friends know that you're currently AFK.
Do not Disturb is a status you must set manually that tells others you're not available for chat. It appears as a red dot next to your name.
Invisible also must be set manually and makes you appear offline even when your Discord client is open.
How to go Invisible and Appear Offline in Discord
Desktop
Click your profile picture at the bottom left of Discord and select Invisible.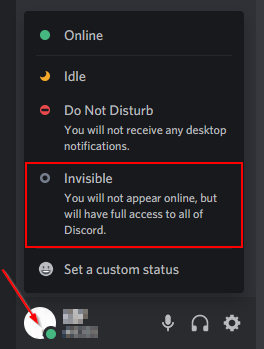 Mobile
Tap the hamburger menu (

) at the top left of Discord and then tap your profile picture at the bottom right of the screen that appears.
Tap Set Status and select Invisible.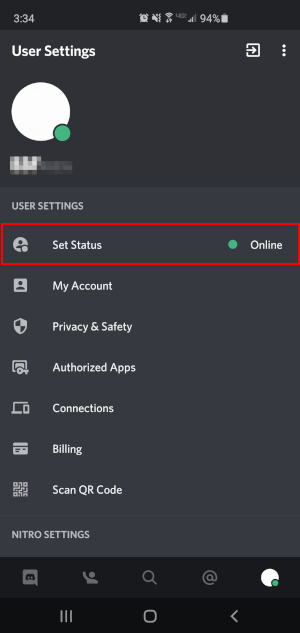 That's it! You can now use Discord without others knowing you're online. Don't forget to change your status back when you're done by repeating the same process above and selecting Online instead.