Microsoft Teams supports the ability to hide chat conversations. This can be useful for cleaning up chats you no longer need. Hiding a chat means that the chat will no longer be visible until you or a member of the chat sends a message again. You can also unhide chats by using the search bar.
How to Hide a Chat in Microsoft Teams on Desktop
In the Chat section on the left hand side of Teams, click the 3 dots next to the chat you wish to hide and then select Hide.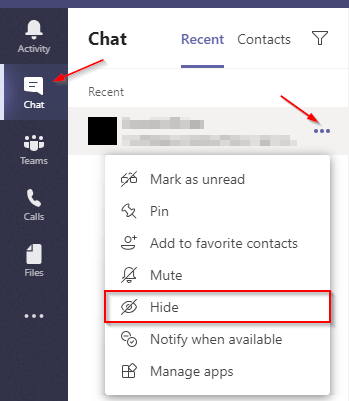 You can hide individual chats or group chats in the same way.
How to Unhide a Chat on Desktop
Use the search bar to search for the name of the person and select it.
The conversation will now appear in the chat area again. Click the 3 dots at the right of it and then select Unhide.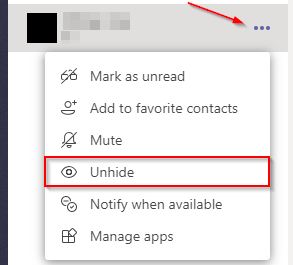 The same steps apply to group chats but search for multiple members of the group chat instead (i.e. Mark Tom Amy).
How to Hide a Chat on the Microsoft Teams Mobile App
In the Microsoft Teams app, tap the Chat button at the bottom to pull up your chats.

Tap and hold the chat you wish to hide and then tap Hide chat in the menu that appears.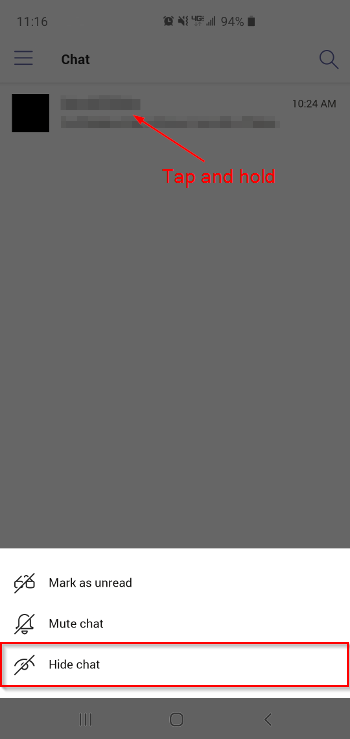 Unhide Chat on Mobile
Unfortunately at the time of writing it appears that you can not unhide chat on mobile. You can search for the chat like on the desktop to pull it up. If you or they send a message then it will appear on mobile again.