This post contains affiliate links which means that I may receive a commission for purchases made through links in this post. Please see our disclosure for more information.
Speakers are a no-go and you need to share some audio with some friends. Unfortunately most devices only have a single audio jack, so you'll need the help of a small piece of hardware called an audio splitter. Luckily they're pretty inexpensive and a super simple way to plug two headphones into one jack.
Using an Audio Splitter to Plug two Headphones Into one Jack
An audio splitter, as the name suggests, is a hardware component that takes input from a single source and splits it into two (or more) outputs. They're usually plug-and-play and can be used on your PC, phone, or any other device with the same kind of jack.
Using an audio splitter is extremely easy. Just plug the splitter into the source device's audio port, and then the headphones into the splitter. It should appear to be acting as a bridge between the device and the headphones. Below is a picture of what that might look like.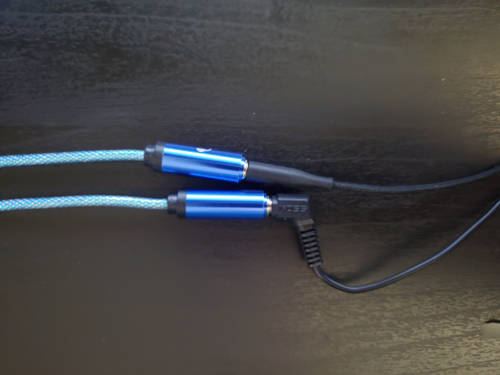 That's really all there is to it! The audio splitter should work right out of the box and you should be hearing the same audio from both headphones.
Two Way Audio Splitters on Amazon
Avantree Two Way 3.5mm Dual Headphone Jack Splitter
Using an Audio Splitter to Plug two or More Headphones Into one Jack
If you're looking to share some audio with multiple people, you might consider getting a splitter with a higher number of outputs. These work exactly the same as the two way splitters but allow for more devices to be connected.
This is a great option for those that travel with family often, especially via public transport. Plug these into your phone, pull up a movie, and everyone can enjoy background-noise-free entertainment.
Three and Five Way splitters on Amazon
AmazonBasics 5-Way Multi Headphone Audio Splitter
9 Inch 3.5mm (1/8″) Male to 3X Female Stereo Splitter Audio Cable, Gold-Plated
KOKKIA 5 Way 6 Port 4-Pole TRRS (Left Audio, Right Audio, GND, MIC/Remote Control) Audio-Splitter (3.5mm)
Audio Splitters for USB Type-C Phones Without a 3.5mm Headphone Jack
For those with a device that uses the new USB-C / lightning cable audio standard and does not have a 3.5mm jack, you still have some options. While a little more expensive, these splitters offer the same functionality and ease-of-use as their 3.5mm counterparts. They also act as adapters by allowing you to use 3.5mm headphones. Some adapters will even allow you to charge your phone while also listening to music via the 3.5mm jacks.
You'll want to read the product description carefully and make sure that the adapter is compatible with your device. I also just want to note that these splitters are intended for use with 3.5mm headphones. I've unfortunately been unable to find true Two Way USB-C / lightning to 2 USB-C / lightning headphone splitters.
USB-C Audio Adapters / Splitters on Amazon
USB C 3.5mm Headphone Jack Adapter, Dual Earphone Digital Smart DAC Audio
Lightning Cable (iPhone) Audio Adapters / Splitters on Amazon
3 in 1 Dual 3.5mm Headphone Jack Adapter – Earphone Jack Audio and Charging Adapter – Headphone Splitter For iPhone