This post contains affiliate links which means that I may receive a commission for purchases made through links in this post. Please see our disclosure for more information.
You've got an Ethernet cable running through the walls, but it's just not quite long enough to reach the other side of the room. Tearing things up to replace the entire line is not a viable option either. Sound pretty close to your situation? Luckily, there's ways to extend an Ethernet cable without re-running existing lines.
Using a Coupler to Extend an Ethernet Cable
A simple, and extremely affordable way, to extend and ethernet cable is to use an Ethernet coupler. An Ethernet coupler is a small piece of hardware with a female Ethernet port on each end designed to connect two Ethernet cables together.
Using the coupler is extremely simple, you just plug in your existing cable to one end and the extension cable to the other. That's all there is to it. If you don't happen to have an extra cable around, you will need to pick up one of those too.
Some Things to Consider
There are a few things you'll want to think about before going with this option.
Coupler is compatible

If the cable in your wall is a Cat5e cable, you'll need to make sure that the coupler you purchase is compatible with it. Most homes will be using Cat5e, but if you're not sure you may be able to check by looking at the exposed Ethernet cable for printed words around it.

Maximum speed of the coupler

If you get a modern coupler, this likely won't be a problem, but check that the maximum speed of the coupler is acceptable. Whatever device is connected via this extended cable will have its speed limited to that of the coupler. Anything over 100mbps should be fine.

Ethernet maximum length

The maximum length of a single Ethernet cable is 100 meters (roughly 300ft). You're probably okay, but make sure the extension doesn't put you over this limit. If you think it might, you should skip down to the hub / switch method below.
Ethernet Couplers on Amazon
RJ45 Coupler/Ethernet Coupler (2 Pack)
RJ45 Coupler, Ethernet Extension, Network Connectors (5 Pack)
Using a Hub or Switch to Extend an Ethernet Cable
Couplers, switches, and hubs, oh my!
This approach is a more for the tech savvy individuals or those that need to extend a cable further than the maximum 300 meter spec. If you're just looking to connect a single device under the 300 meter distance, try using a coupler first.
While not as cheap or simple as the coupler method, a switch or a hub is a viable option that also has a few additional benefits. I won't be comparing the technical differences between a hub and a switch, as it's already been done before, and will only be focusing on the pros and cons of this approach vs. the coupler method.
Pros of a Switch or Hub
Can connect multiple devices to the same line
Can extend a cable further than the 300m limit
Cons of a Switch or Hub
Not as compact as a coupler
May need to be plugged in for power
Are usually more expensive
There's definitely an argument to be made for this approach and if I were balancing my options, I would ask myself these two questions:
Do I need, or will I ever need, to connect multiple devices to this same line?
Do I need to extend over 300m?
If the answer to both of those is "no", then you should get a coupler. If your answer to one of those is "yes", you might be better off with a switch or a hub.
Switches/Hubs on Amazon
NETGEAR 5-Port Gigabit Ethernet Unmanaged Switch (GS305)
NETGEAR 8-Port Gigabit Ethernet Unmanaged Switch (GS108)
TP-Link 8 Port Fast Ethernet Switch | Desktop Ethernet Splitter | Ethernet Hub
Ethernet Over Power Line: An Alternative Solution
Although these won't extend your existing Ethernet cable, I think these devices are worth a mention as an alternative solution. These are called Ethernet over power line adapters and they're kind of awesome.
You can use these to connect devices through the existing power line wiring in your home. You can even connect multiple devices by just adding a new adapter. Seriously – it feels like they work on magic.
Setting them up is also pretty simple. If you have a router or a modem with extra ports, you'll plug one of the adapters into the router/modem via an Ethernet cable and then the adapter into the wall. You'll then plug the second adapter into the wall and then connect a device via an Ethernet cable to the adapter. That device will now have access to the network via your home's wiring.
I know that can sound really confusing, so I drew a pretty crude representation that might help (sorry, I'm no artist!). The divider in the middle is meant to represent two different rooms in the same home.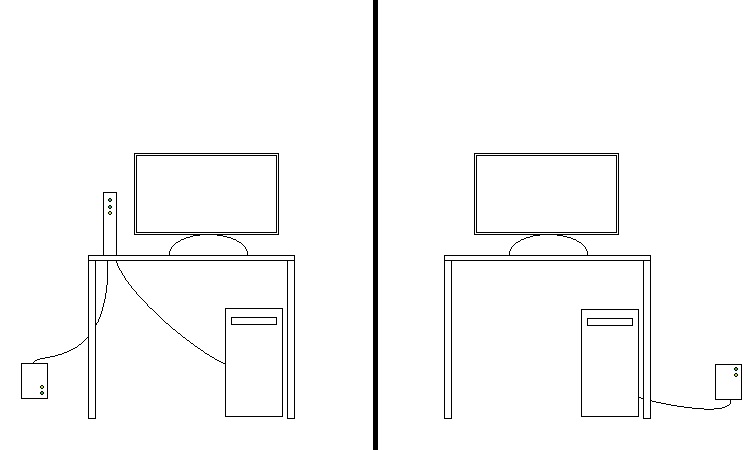 I personally use these devices in my own home network, and have for a couple of years. Occasionally I'll have to unplug one of them and plug it back in, but for the most part they work great for my purposes.
Some Things to Consider
You'll still want to think about a few things like speed rating and distance. You'll probably want to get at least 100 Mbps adapters but depending on your network speed and internet connection, you may even want to step up to 500 Mbps or even 1 Gbps.
Distance might also be a deterrent from these devices as they too will lose their connection quality after 300m. You'll also want to make sure that you plug these directly into the wall. Don't use a surge protector or power strip as they tend to cause problems.
Ethernet Over Power line Adapters on Amazon
TP-Link AV600 Powerline Ethernet Adapter
TP-Link AV1000 Powerline Adapter