How to Loop a YouTube Video on Desktop
You can actually loop videos directly on the YouTube website. There's no button for this and the option is kind of hidden in the right click menu of the video.
Step 1: Find a video you want to repeat and start playing it
Step 2: Right click anywhere inside of the video and select the Loop option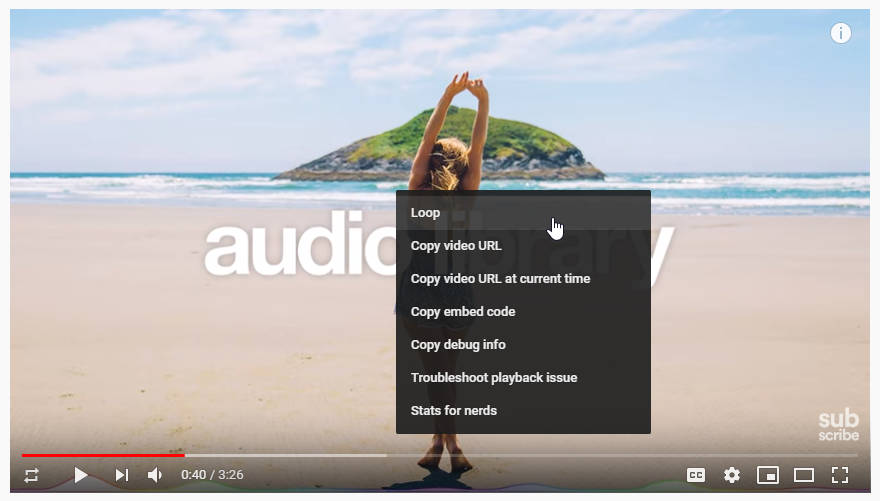 Loop is now enabled and the video will repeat from the beginning.
Loop a YouTube Video with a Browser Extension
There are some browser extensions that also provide this functionality. My personal favorite is the Youtube Repeat Button for Google Chrome. It simply adds a repeat button next to the play button on all YouTube videos.

Firefox users might have luck with a similar extension that goes by the same name.
Check out this short tutorial if you're not sure how to add browser extensions.
Repeat a YouTube Video with Listen On Repeat
Listen On Repeat is an awesome website that allows you to loop YouTube videos and playlists from your browser. You can search for videos directly on their site, or simply modify the URL of the video you wish to repeat. Listen On Repeat even saves your recently played videos to a playlist so you can play them again later. You can then use their custom controls to shuffle, skip, or set a video to repeat.
Step 1: Find a YouTube video you want to repeat and click it
Step 2: In the URL box, change only the youtube part to listenonrepeat

Listen On Repeat should now open with the video playing and set to repeat.
How to Loop a YouTube Video on Mobile
Unfortunately looping a YouTube video on iPhone or Android is a little more challenging than on a Desktop. There's no loop option in any menus on mobile but there is a workaround you can use.
Playlists can be set to repeat in the mobile YouTube app. You can add a video to a playlist and then loop the playlist. If that video is the only one in the playlist, then it will repeat after it's finished playing. Check out our article on looping a YouTube playlist to find out how.